Our history
In 1844, the trained organ builder, Franz Rieger, laid the foundation for a successful company with his own workshop, of which organs can be heard all over the world today. You are invited to immerse yourself in our history, which now spans seven generations and has had a decisive influence on modern organ building.
Geschichte im Detail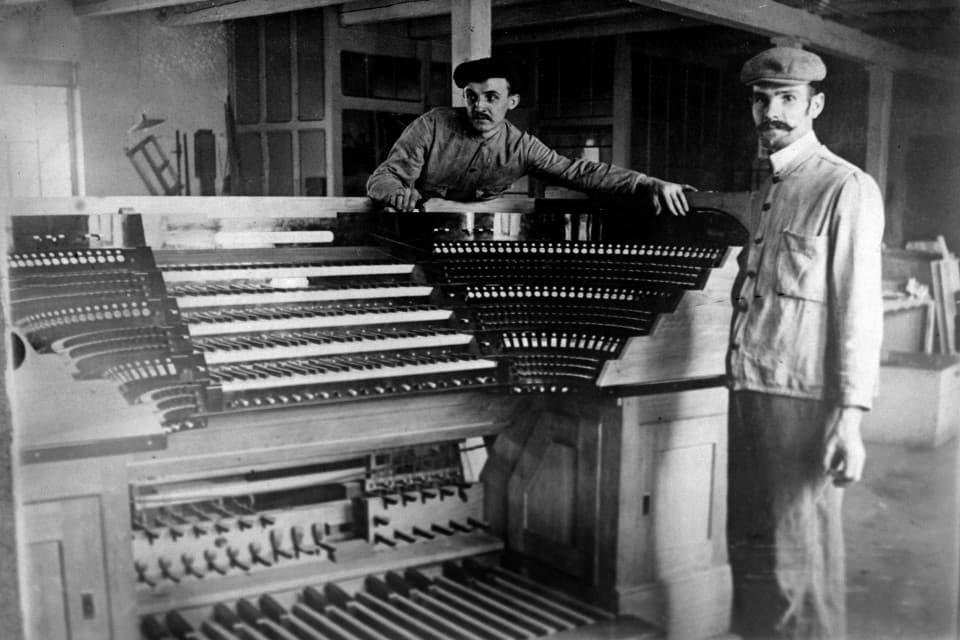 The managing directors since the company was founded in 1844:
1st Generation
Franz Rieger (1812–1885)
2nd Generation
Otto Rieger (1847–1903)
Gustav Rieger (1848–1919)
3rd Generation
Otto Rieger (1880–1920)
4th Generation
Josef von Glatter-Götz (1880–1948)
5th Generation
Egon Glatter-Götz (1911–1940)
Josef Glatter-Götz (1914–1989)
6th Generation
Caspar Glatter-Götz (*1945)
Raimund Glatter-Götz (1948–2013)
Christoph Glatter-Götz (*1951)
7th Generation
Wendelin Eberle (*1963)
Rieger archive
We keep documents on all Rieger organs in our archive, from Opus 1 starting with the year 1845. Unfortunately, several documents were lost in the preceding decades, due to a fire and a flood. Nevertheless, most of the drawings, construction plans, contracts and correspondence were transferred several years ago from Jägerndorf, where the firm was founded (nowadays Krnov in the Czech Republic), to our present company headquarters in Schwarzach. There, they were viewed, sorted and processed by an archivist.
The archive is not publicly accessible. If you have inquiries about documents in our archive, we will be happy to provide you with information for a processing fee of EUR 50.00.
Your contact person:
Reiner Schuhenn
reiner.schuhenn@rieger-orgelbau.com
+43 5572 58 132–21
E-Mail schreiben